Please follow and like us:
Georgetown, Guyana – Only in Guyana, could a man who orchestrated the extrajudicial killings of more than 200 citizens, and with the help of a notorious and vicious drug dealer Roger Khan, be allowed to reinvent himself, and then intimidate his cowardly party members, into appointing him party General Secretary, subsequently reappearing as a member of parliament, then proceeding to work to undermine Guyana's fledgling democracy by inciting division, confusion and racial animus among citizens.
This man, the notorious opposition leader of the People's Progressive Party and Former Guyana President, Bharrat Jagdeo, is not a patriot. Jagdeo seeks every opportunity to sow seeds of confusion and division and so while the nation's leader President David Granger is recovering from treatment for his well publicized illness, Jagdeo senses opportunity to strike with his ill-conceived 'no confidence' motion. It will fail miserably but what kind of human does this?
The opposition People's Progressive Party needs one additional vote for their 'no confidence' motion to carry, but the notion that any coalition parliamentarian is gullible enough to believe the word of the nation's most notorious narcissist, opposition leader Jagdeo, strains credibility. It's just not going to happen. This is a man who;
…openly cavorted with Guyana's most notorious drug dealer
…was unwilling to accept international help with law and order, opted to sanction a program of extrajudicial killings of Guyanese citizens
…had no problem imprisoning or contracting the killings of his political enemies – Benschop, Waddel, Crum-Ewing to name a few
…could not find one African Ambassador to represent Guyana
…encouraged racial divisions, stereotypes of Africans and isolated African communities during his party's 23yr reign
…sold out the country's assets to his good friends through fire-sales and sweet-heart deals
…built a sham economy based on drug dealing and money laundering
—promoted a Police Chief who was known to be corrupt and with whom international bodies refused to share intelligence. The list is long.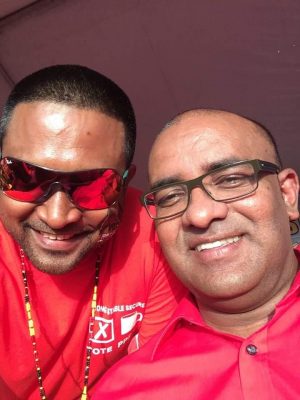 Bharrat knows that the 'no confidence' motion will fail miserably so he again chooses to deflect by recruiting the indecent Nigel Dharamlall, the overly ambitious Gail Teixeira and his cowardly band of MPs to gin up old stereotypes and fears of violence and business disruptions. Who are these awful people?
Why decent PPPC party members have not ostracized Bharrat Jagdeo is beyond explanation, maybe cowardice explains it or sadly it may just mean that 'birds of a feather, flock together' Either way, the opposition People's Progressive Party is the party of corruption, extrajudicial killings, murder of political activists and racism. No one in their right mind would court this shameful institution. We are confident that no coalition minister would.