Please follow and like us:
Jagdeo, Ali and the rest of the irresponsible so called 'guardians of democracy' must take responsibility for encouraging members of the public to congregate outside the Arthur Chung Center to watch ballot boxes. They must also take responsible for their many public utterings underplaying the enormity of the COVID-19 threat confronting Guyana.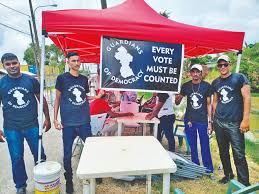 From the inception, Jagdeo and Ali and their minions downplayed the risks to their supporters. In a show of blatant disregard and selfishness, the foolish sheep were encouraged to put their very lives at risk, now one of them has been tested positive. How many more of them are infected?

Today the number of infected in Guyana climbs to 19 and the entire country is at risk. Welcome to irresponsible leadership. Stay home and stay safe everyone!!!